We would like to invite you to Quincy, Illinois to be our guest for a weekend of camaraderie and outdoor recreation. Fishing For Freedom - Quincy is a celebration of the freedoms we love with those who provide them for us. It is an opportunity for you to spend a day on the water with some of the best anglers in the area, and enjoy a fun day of tournament bass, crappie, and catfish fishing in a relaxed, fun-filled celebration in the great outdoors. This 3-day event also provides our Warriors with opportunities that range from a fish fry, to trapshooting, archery, live music, and the Heroes Banquet, in addition to a day of fun tournament fishing on the Mighty Mississippi River or Mark Twain Lake.
Thank You
for your service and sacrifice to keep this country free
We hope to see you at this year's event!
A Weekend of Fun and Camaraderie
All Warrior participants will receive a goodie bag donated by our sponsors, dinner and entertainment on Friday night, lunch at noon and dinner at the Heroes Banquet on Saturday, breakfast Sunday morning, as well as a wonderful weekend of fun. Fishing For Freedom - Quincy covers all lodging, meals, and fishing license costs for our Warriors, the only requirement we ask of our Warriors is to organize their own transportation to and from Quincy.
The top finishers in each fishing division will also receive trophies for their accomplishments and will be recognized at the awards ceremony at the end of the weigh-in. Door prizes for the Warriors may include firearms, outfitted fishing trips and/or deer/waterfowl hunts, fishing gear, hand-made lures, and much more.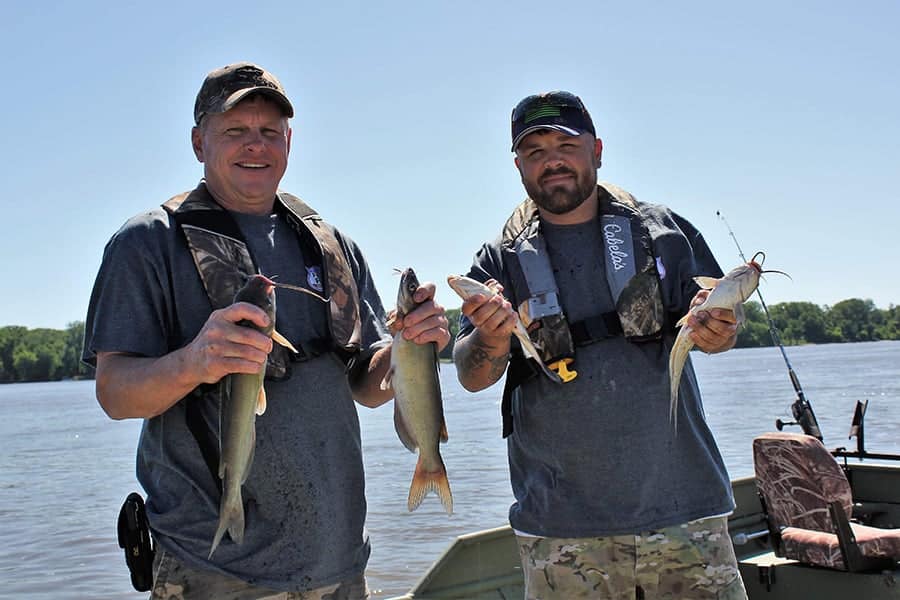 Although you are welcome and encouraged to bring your own fishing tackle, volunteer Boaters are instructed to have rods, reels, lures, and life vests for your use during the tournament as needed.
Participants do not need to purchase their own Illinois or Missouri fishing license to fish as we have a special exemption for this event.
Please bring a snack or sandwich for you while you are in the boat from 6am-noon, sunscreen, and appropriate clothing in case of inclement weather.
This event is open to all Veterans and active duty personnel. All angling skill levels are welcomed, from those who have never touched a rod and reel to the accomplished tournament fishermen.
All Warriors who register for the event during open registration and have submitted valid proof of service will be registered to participate.
IMPORTANT NOTE FOR ALL WARRIORS
Please notify us if you are registered and unable to attend for any reason. We have Warriors on standby every year wanting to participate. Please do not be the reason they are left out because you failed to cancel.